Houlahan Tours Leading Cancer Treatment Development Facility Novocure, Meets with Malvern Employees
Malvern, September 15, 2021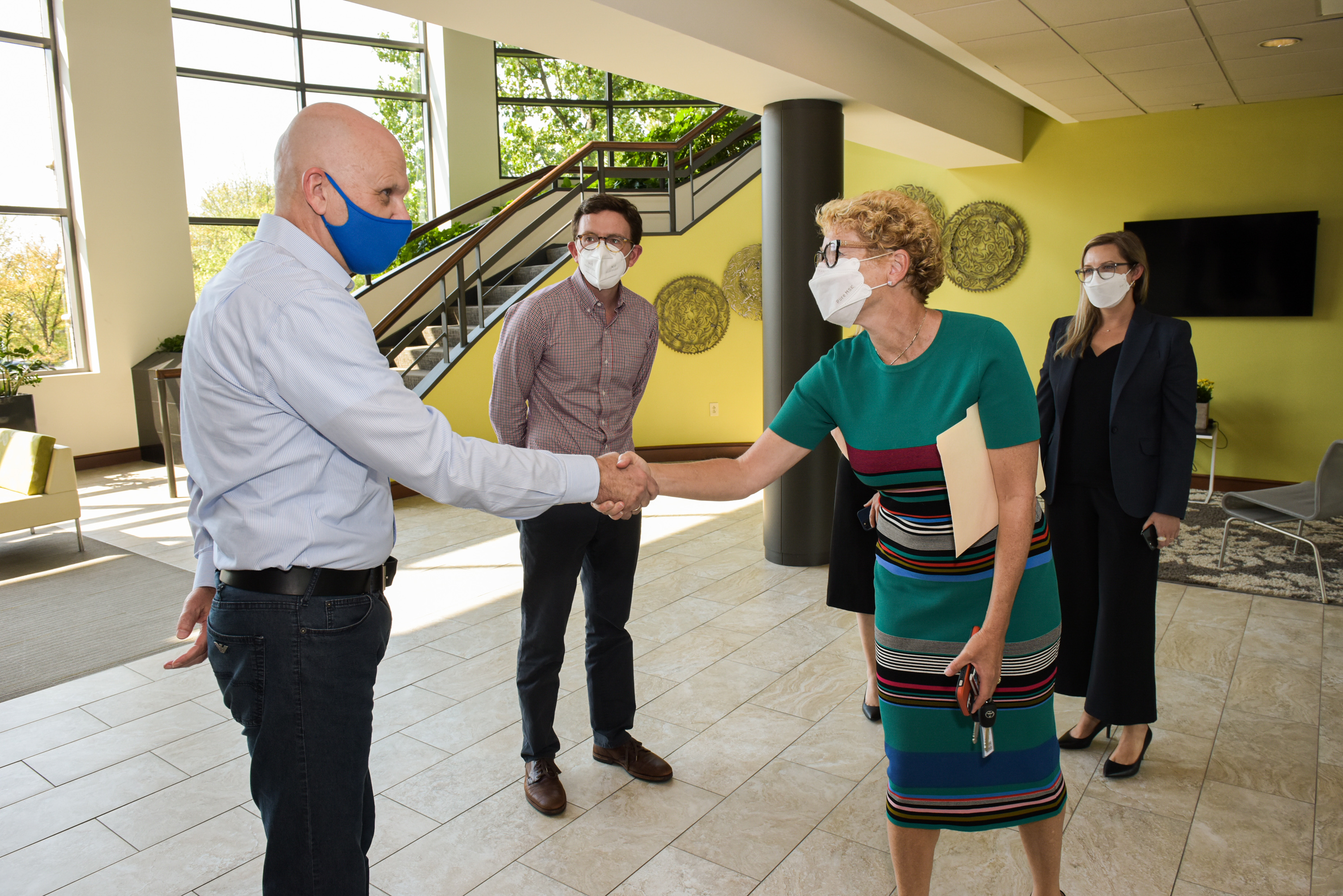 Rep. Houlahan tours Novocure facility in Malvern, PA. From left to right: Wilco Groenhuysen, Chief Operating Officer, Frank Leonard, Chief Development Officer, Rep. Houlahan, and Katie Meyer, Head of Government Affairs.
MALVERN – Today, Representative Chrissy Houlahan (D-PA) joined Novocure leadership to tour their Malvern facility and learn more about their vital work. There, she heard about their mission of striving to extend survival in some of the most aggressive forms of cancer through the development and commercialization of the company's therapy, Tumor Treating Fields.
"Nearly all of us know someone with cancer – myself included,"
said Houlahan.
"No community is spared from the deadly diagnosis, but right here in Malvern we are seeing cutting edge research to fight back. The work I saw today should encourage all of us – the dedicated employees of Novocure are harnessing human ingenuity and scientific breakthroughs to help those suffering from various types of cancer."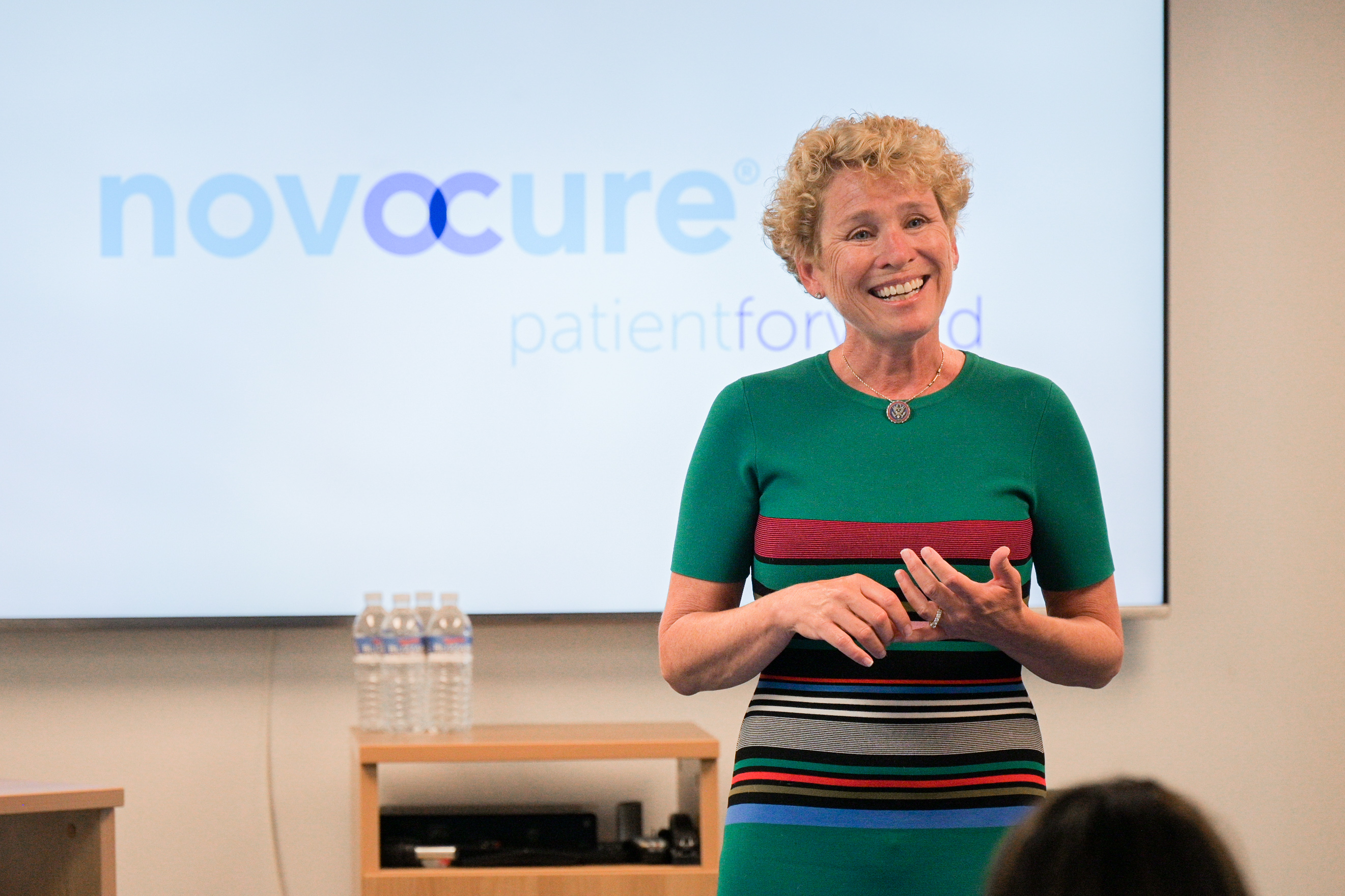 Rep. Houlahan speaks to Novocure employees and answers questions about her work down in Washington.
Houlahan met with employees following her tour to take questions and give an update on her work down in Washington. Houlahan thanked them for their steadfast work on an important cause and spoke about the need to continue supporting our medical community and small businesses and her efforts to ensure we have the workforce necessary to compete in a 21st century economy.
"We thank Representative Chrissy Houlahan for her leadership and tireless work on behalf of patients across southeast Pennsylvania and beyond," said Ashley Cordova, Novocure's Chief Financial Officer. "Novocure is proud to have her representing Malvern on Capitol Hill, where we can work together in our shared mission to expand patient access to innovative medical technology like Tumor Treating Fields. It was an honor to host Representative Houlahan to showcase the exciting work we are doing at our Malvern facility, including our 'Office of the Future' project aimed at facilitating a hybrid workforce, as well as the high-quality jobs we have been able to bring to the community. We hope to have her back for another visit soon."
Novocure is a global oncology company working to extend survival in some of the most aggressive forms of cancer through its therapy, Tumor Treating Fields. This cancer therapy uses electric fields to disrupt solid tumor cancer cell division. Novocure has ongoing or completed research investigating Tumor Treating Fields in brain metastases, non-small cell lung cancer, pancreatic cancer, ovarian cancer, and liver cancer. Headquartered overseas in Jersey, Novocure has U.S. operations in Malvern, PA, Portsmouth, NH, and New York, NY. Additionally, the company has offices in Germany, Switzerland, Japan, and Israel. For additional information, visit www.novocure.com.
Houlahan is an Air Force veteran, an engineer, a serial entrepreneur, an educator and a nonprofit leader. She represents Pennsylvania's 6th Congressional District, which encompasses Chester County and southern Berks County. She serves on the House Armed Services Committee, the House Foreign Affairs Committee and the House Small Business Committee. She is the recipient of the U.S. Chamber of Commerce's Abraham Lincoln Leadership for America Award which "recognizes members who demonstrate the bipartisan leadership and constructive governing necessary to move our country forward."

###