Representative Houlahan Addresses A Severe Lack of Women In STEM Community And Launches Bipartisan Women In STEM Caucus
Washington, January 30, 2020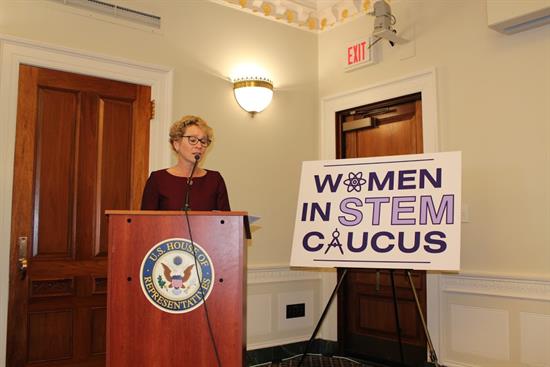 Rep. Chrissy Houlahan launches the bipartisan Women in STEM Caucus.
Originally posted in Daily Local News
WEST CHESTER — U.S. Rep. Chrissy Houlahan, D-6 of Easttown, launched the first-ever Women in STEM Caucus Wednesday, which was founded to increase the presence of women and underrepresented minorities across STEM fields. The caucus currently has 13 bipartisan Members.
"I was one of 10 women in my engineering major," said Houlahan. "Thirty years later, the numbers haven't really changed. That's why we launched the Women in STEM Caucus. For too long, the STEM community has felt inaccessible to women and underrepresented minorities. I'm proud to stand alongside my colleagues from both sides of the aisle to give STEM a much needed makeover. Our mission is clear: show women, girls, and underrepresented minorities that STEM is for everyone."
"STEM education is a driving force behind our nation's 21st century economy, strengthening our workforce through hands-on learning, technical training, and real-world application of the skills required in cutting-edge jobs," said U.S. Rep. Jackie Walorski, R-Ind. "That's especially true in northern Indiana, a manufacturing hub that depends on innovation and skill to build made-in-America products. By expanding access and encouraging girls of all ages to explore STEM fields, we can create more jobs and opportunity in our communities and open doors for them to achieve their full potential."
"As a member of the House Science Committee, and as someone who previously worked in a manufacturing research lab, I have seen and learned about the discrimination and institutional barriers for women in STEM fields," said U.S. Rep. Haley Stevens, D-Mich. "Women and girls everywhere need to know that they can succeed in the STEM fields, and that our country and our economy won't succeed without them. That's why I am so proud to serve as a co-chair of the new Congressional Women in STEM Caucus. I look forward to working with the other co-chairs to grow this bipartisan caucus into a powerful force for change, and to ensure that women are given equal opportunities to conduct research, innovate, and discover the next great technological breakthrough."
"Arizona is home to the largest effort in the country by a university to support the entry and success of women in the fields of science, technology, engineering, and mathematics," said U.S. Rep. Debbie Lesko, R-Ariz. "As a representative of a state that is a leader in the cause to promote women in STEM, I am proud today to celebrate the establishment of the Congressional Women in STEM Caucus, and I am honored to serve as one of its co-chairs. It is important to encourage the success of women and girls in STEM fields and that is what I hope to do through my participation in this caucus."
"I have seen firsthand how the strong partnership between universities and federal research agencies is essential to supporting women who are passionate about careers in STEM fields," said Dr. Melanie Kornides, Assistant Professor at the University of Pennsylvania School of Nursing. "As a result, more women now than ever are entering STEM fields. We should be proud of that accomplishment, but also recognize now is the time to redouble our efforts. Today, we reaffirm that commitment by working with members of this caucus and others to foster the next generation of successful, innovative women researchers."

"The sting of microaggressions, invisibility, hypervisibility, and presumptions of incompetence have created very dire conditions for STEM women faculty at U.S. higher education institutions," said Dr. Kelly Mack, Vice President for Undergraduate STEM Education; and Executive Director, Project Kaleidoscope Association of American Colleges and Universities. "These lived experiences demand that we have a women in stem caucus like this. But, it's the commitment of the caucus to ensuring that the mistake of ignoring or excluding women of color from important policy work will not happen that makes me so proud to be a part of this work."
"Today is a cause for celebration: These leaders are establishing the first-ever congressional caucus to support the next generation of women researchers," said Lauren Brookmeyer, President of the Science Coalition and Director of Government Relations at Stony Brook University. "These four lawmakers should be commended for their leadership and tireless advocacy on behalf of women researchers, America's scientific enterprise, and the unique partnership between our universities and federal research agencies. Strengthening diversity in these research fields is essential to expanding our economy, spurring innovation, and maintaining our nation's global competitiveness."
The Women in STEM Caucus is a bipartisan group of Congress members dedicated to advancing the important role women and underrepresented minorities in science, technology, engineering, and mathematics (STEM) play in boosting our economy, conducting groundbreaking research that leads to life-changing innovations, and furthering our nation's scientific enterprise.